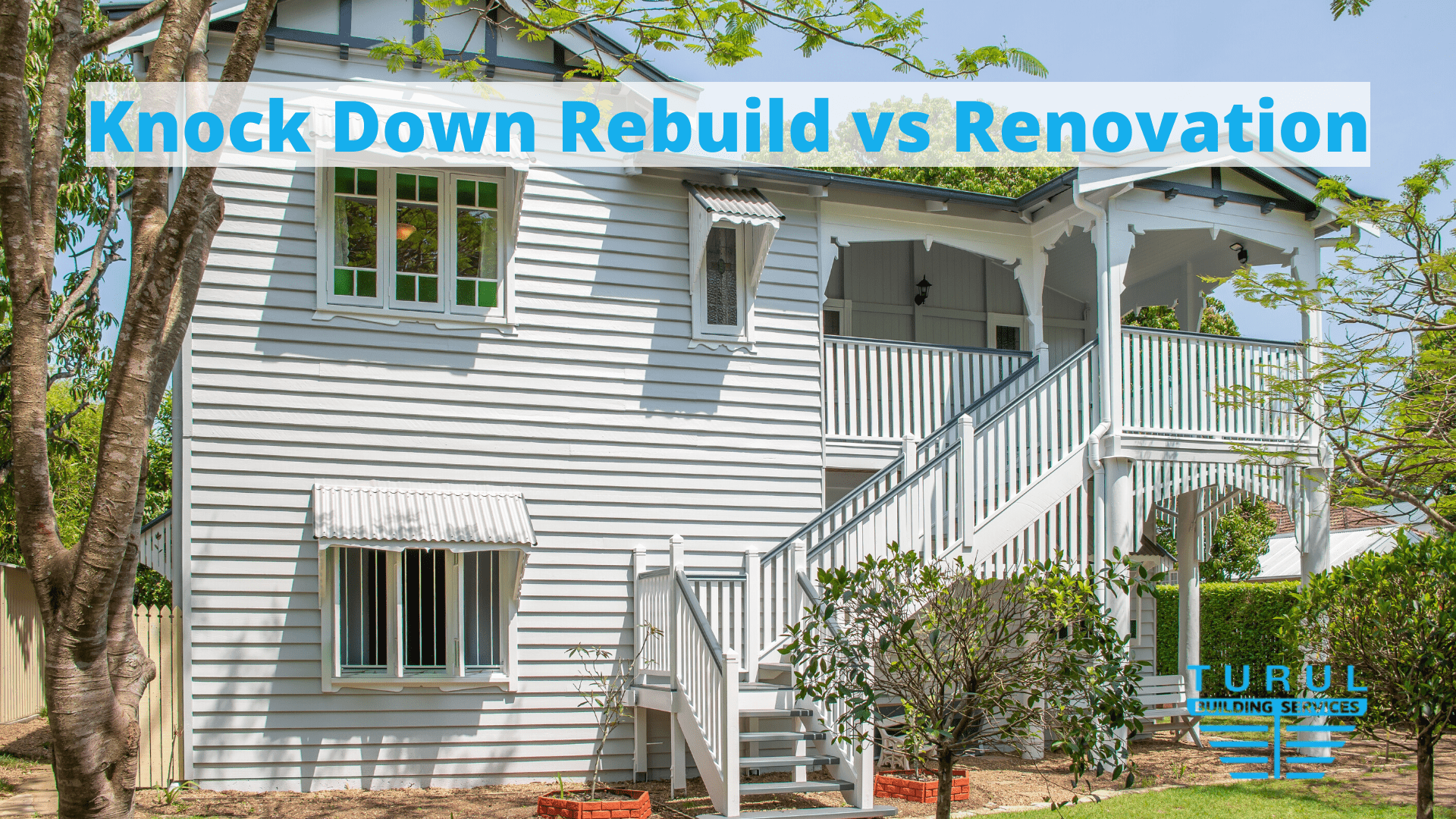 Knock Down Rebuild vs Renovation
Knock Down Rebuild vs Renovation
Whether you have a bought the worst house on the best street or are living in a home that you know has seen better days, the time may be looming for you to start making the decision between knock down rebuild vs renovation. At Turul Building Services we work with clients every day who are facing the same decision, which is why we wanted to provide this helpful resource to give you some guidance.  
Turul Building Services can help with knock down rebuilds and home renovations; just ask us and we will quote for you. Our experienced team of Renovations Builders Brisbane have worked with homeowners across Brisbane on their renovations and rebuilds (view our gallery of recent renovations here!) and we can provide helpful advice and information to suit your home.  
Knock down rebuild vs renovation 
When asking the question of knock down rebuild vs renovation, you are faced with two separate scenarios:  
A knock down rebuild is where the existing home is demolished (after any valuable pieces of construction, fixtures, fittings, appliances, or anything else of value is removed) and a new home built in its place. 

 

A renovation takes place where the existing home is retained, but minor or significant renovations are performed to give the home a new lease on life. 



Growing families are often the ones looking to go through a renovation, or new owners; while a knock down rebuild might be undertaken by anyone looking to improve the home they have purchased. The choice of a knock down rebuild vs renovation falls entirely on you, the homeowner, but there are a range of variables which may impact your decision making process. 
What influences the decision to knock down rebuild vs renovati
on
? 
One of the biggest considerations facing anyone looking to improve their home is price. Choosing to undertake work on your home is to choose to spend money, and the decision is not one undertaken lightly. There is, of course, the benefit of an increase in the value of your home when you renovate or perform any improvements on your property – but these benefits may not be realised until a home is sold, which may be in a short period of time – or may not be for many decades! 
Top factors to consider when looking to renovate or knock down and rebuild:   
Consider what type of home you are looking to achieve as

an end result

. If you are looking for a significantly different floorplan, a major change in the building materials used for your home, or are hoping for an eco-friendly design in place of a pre-war home

,

then it may be in your best interests – both financially and generally – to knock down and rebuild. A renovation would be lengthy and costly. 

 

If your changes are moderate and you are happy to live in the home while you are undergoing the building works (or can rent in a convenient location nearby) then a renovation might be just what you need.

 



It can be helpful to speak to a builder like us, because we have seen both options performed with equal amounts of success and can advise you on what may work better for your home.  
Is it cheaper to knock down and rebuild or renovate?
The answer to 'is it cheaper to knock down and rebuild or renovate' depends on the scale and complexity of the work to be completed. In many cases you may be surprised to learn that knocking a home down and building a new home in its place can be the cheaper option if there are substantial works to be done. However, in many cases it's worth retaining the charm of the original home and improving it, especially if the home has period features that add value.   
Is it cheaper to knock down and rebuild or renovate? Ultimately, it's worth sitting down and crunching the numbers and then speaking to a builder who can give you a solid idea of exactly what you should do next.  
Our team is always happy to speak to homeowners who are looking to update, renovate, or rebuild. Why not take a look at some of our testimonials from other happy Turul customers, and then call us today and speak to our friendly builders who can help you determine which option will be best for you: knock down rebuild vs renovation. 
Related Posts