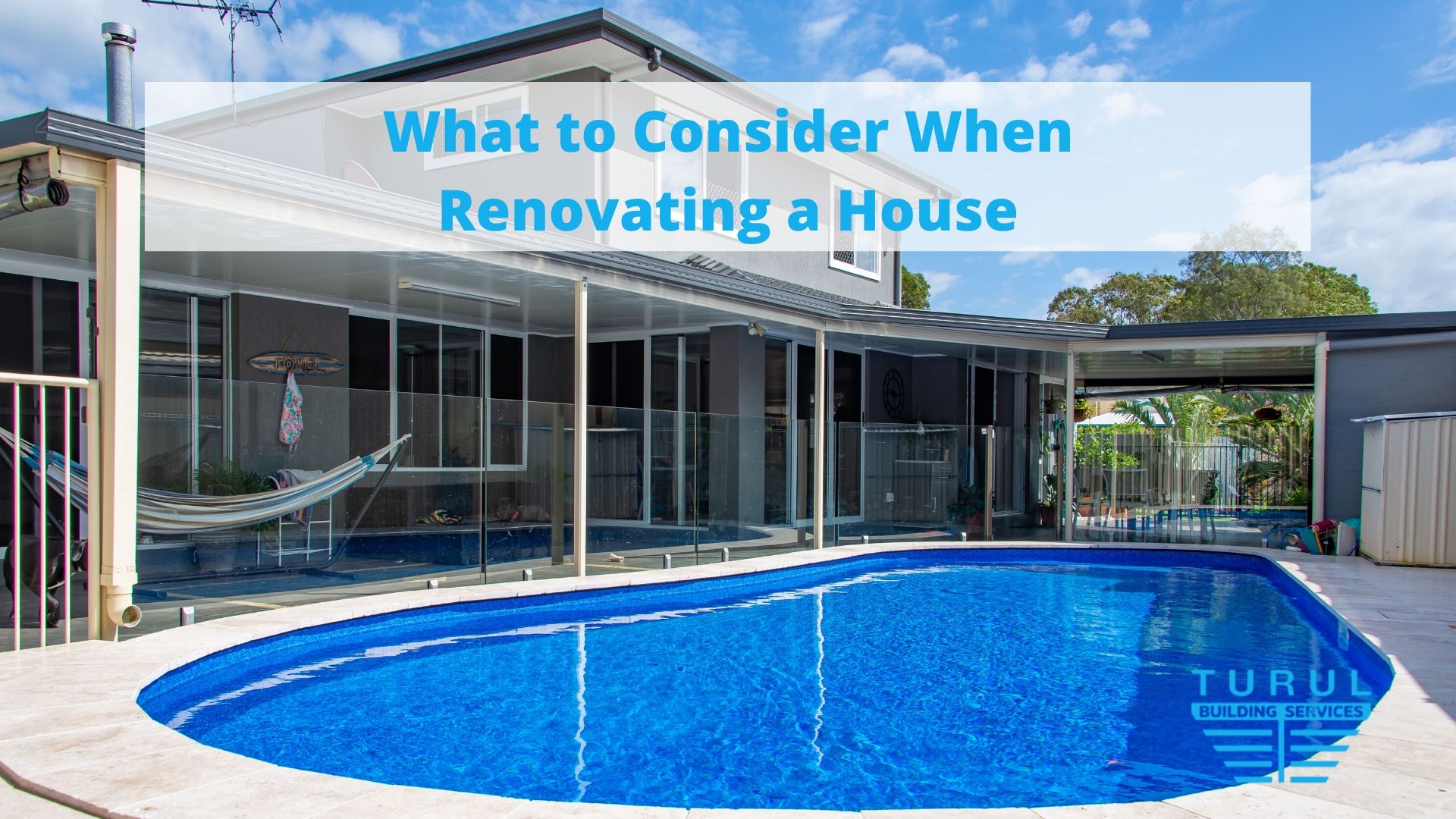 What to Consider When Renovating a House
What to Consider When Renovating a House
A home renovation is an exciting time, you get to transform the parts of your home that you may not be happy with into a home that you'll love. With a home renovation, you not only create functional and aesthetically pleasing rooms in your home, but you also get the added benefit of adding value to your home as well. As North Brisbane builders we often get asked 'what to consider when renovating a house?', the truth is renovating a home can be as complicated or as simple as you want it to be. The sky really is the limit when it comes to renovating your dream home.
At Turul Building Services, we know how important it is to bring your building vision to life. Whether you need a simple home extension or a full-scale renovation, our team can get the job done for you on time and on budget. With over 20-years of industry experience, we always strive to provide a service that goes above and beyond your expectations. Are you looking to transform your home? Get in touch with the friendly team at Turul for an obligation free quote on your home renovation today.
What to Consider When Renovating a House
– Our 7 Tips
Map out your dream

– During the pre-renovation stage, pick up your favourite housing magazines to get an idea of what you want to get out of each room. Consider functionality, aesthetics, and potential cost. Once your home renovation dream is mapped out, it's time to get started by making some calls to reliable home renovations experts. Don't be afraid to shop around to get a couple of different quotes on your renovation. Finding the right home renovation builders Brisbane wide that can work with you to deliver your renovation according to your vision will ensure it's completed on time and on budget, and most importantly to your liking.
Work out your budget – With the diverse range and cost in materials, fixtures, and fittings, choosing what to use when renovating your home can be a daunting task. Use the home map that you created in tip 1 and separate your list into 'must-have' and 'would like to have', this will give you an idea of the essentials, and other additions you can add if budget and time permits. It's important to set a budget that you can afford but also allows for some flexibility to make changes during your renovation

Set up a renovation plan

– Unless you're renovating a vacant investment property, chances are you'll still want to be living in your family home throughout the renovation process. Think about your living situation, when you're renovating the ensuite, you can use the guest bathroom. For a kitchen, take your cooking outdoors to the family BBQ for a few weeks. Having a plan that separates your renovation into stages will help your family get through the renovation with as little disruption as possible to your daily routine.

Save yourself time and regret by calling in the experts

– While there certainly some renovation aspects you can DIY such as a new coat of paint in the kid's playroom or installing a new cupboard in your kitchen, its best to leave plumbing, electrical, and building work to the experts. While it might be tempting to run the wires for that new downlight or plumb in your new designer toilet, or knock down a wall, the benefits of DIYing these tasks are often outweighed by the potential risks of doing more harm than good.

An investment or a family home

– Consider the goals of the property you are renovating. Are you planning to live in the home for the long-term or is it an investment you're trying to flip in a few years? If it's your family home, choose premium fixtures and fittings that will help make your life more comfortable and offer a more personalised living environment. For an investment, you'll want to choose materials that make the home attractive to the widest range of possible buyers, so you have the best chances to make a quick sale.

Take into account health and safety considerations

– Throughout your renovation, its important to consider the potential risks to health and safety. For older homes, you should contact a professional builder to do an Asbestos Materials Inspection to check if there were any asbestos materials used during the construction of your home. If you will be living in the home during building works, contending with paint fumes, sawdust, and noise pollution are also considerations you'll need to take into account.

Check for rules and regulations

– When renovating a home, your council may require certain approvals for some renovations. For the most part, renovations to the interior of your home can be completed without any council approval. Whereas, significant changes to your building structure, adding on home extensions, raising your home, pool construction, or even small changes to heritage-listed structures may involve a lengthy approval process. Having a professional draftsman or architect draw up your building plans, having them certified by a Building Certifier, and appointing someone to be your Principal Certifying Authority can all help speed up the approval process.
Ready to get started on your home renovation or would like to learn more about 'what to consider when renovating a house'. Call us today on 0438 782 244 for incredible home renovations from a home renovation builder that is committed to providing remarkable home improvements no matter the size of your home.  
Related Posts