Home
>
Uncategorised
>
How to Add Value to Your Property – Part IV: How Much to Invest in Home Renovation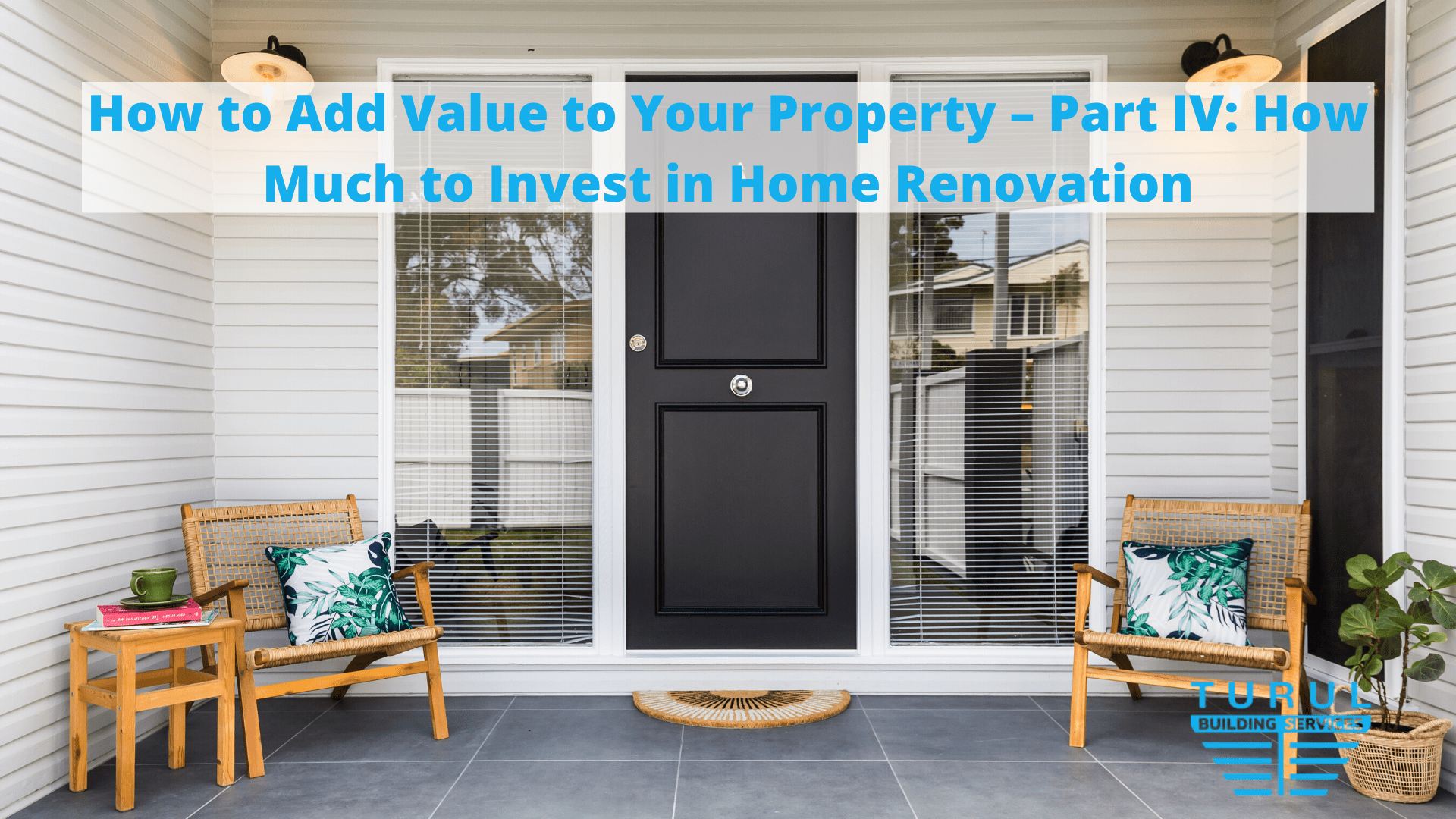 How to Add Value to Your Property – Part IV: How Much to Invest in Home Renovation
How to Add Value to Your Property – Part IV: How Much to Invest in Home Renovation
Welcome to part four, and thanks for sticking with us as we explored some of the ways in which you could add value to your home with a renovation. We have taken a look at some of the budget options for adding value for prospective buyers and visited on some of the bigger-ticket investments that you can make when looking to increase the overall worth of your home. The ultimate focus throughout this series has been on how to add value – so no matter whether you are investing $1,000 or $10,000 you want to know that the total investment results in a profit. This final part in the series is focused on looking at how to add value to your property and knowing how much to invest in home renovation overall.
How much should you invest when it comes to a home renovation?
The total amount that you are going to spend will depend largely on your budget, of course, but there are also some guidelines in place which you can follow as loosely or rigidly as you like for guidance.
The 5 – 10% rule
There is a general rule in the renovations game that when working out your total spend you should not spend more than 10% of the total value of your property. What this means is that if you have a $450,000 house you should not be spending more than $45,000 on your renovation in total. By sticking to this figure you are making sure that you do not over-capitalise on your overall investment. However, while this is a guide you can follow there are a range of other factors which are worth keeping in mind.
What type of renovation are you doing?
The total amount you spend on your renovations will depend on the type of renovation you are planning on doing. If you are doing a simple floor renovation where you replace the surfaces then you won't want to be spending 10% of the value of your home, of course. However, if you are adding extra bedrooms, redoing the kitchen and adding an extension then it may be worth spending more than the 10% range because of the added value! Keep in mind that cosmetic upgrades are quicker and cheaper than structural renovations and can often add more value for your money if funds are limited, but structural upgrades can add serious value if you have the money to invest.
How long are you planning on keeping your home?
A renovation that is performed as a labour of love can benefit from a larger cash investment because it's ultimately bringing you quality of life. If you are building your dream home it's worth spending more money on your home because your family will benefit from the improvements for years to come. But if you are renovating primarily to add value you want to focus on your bottom line. Think about how to add the largest amount of value with your financial investment and let your decision-making be guided by the costs of renovation.
You need to be guided by your own budget and don't let things creep up and blow your budget entirely – you need to be concise and work with an experienced builder who will provide you with an accurate and complete quote from the start.
Remember why you are renovating
The ultimate goal of your renovation is to increase the value of your property so that you can sell it for (hopefully substantially) more than what you paid for it. If you are still on the fence about what to spend, think about where you are at in the property selling process.
Has your property been on the market for a while with little interest? It might be worth looking at what has sold recently in the area and making some improvements to bring your property in line with that standard.
However, if your home is relatively new and doesn't need much in the way of improvement it can be worth speaking to a builder and finding out what their thoughts are on how you can enhance the value of your home.
We hope you have enjoyed this four-part series on how to add value to your home with renovations. Turul Builders are here to provide quotes and advice on home renovations to homeowners across Brisbane. And remember, while it might be tempting to do some DIY renovations you might save some money – or it might end up costing you more if you need help fixing up your work!
We would love to help you secure a higher price on your home at auction or sale with a renovation, so call us today on 0438 782 244 for a quote or a chat to our friendly team to renovate your home with experienced Renovation Builders Brisbane. 
Related Posts