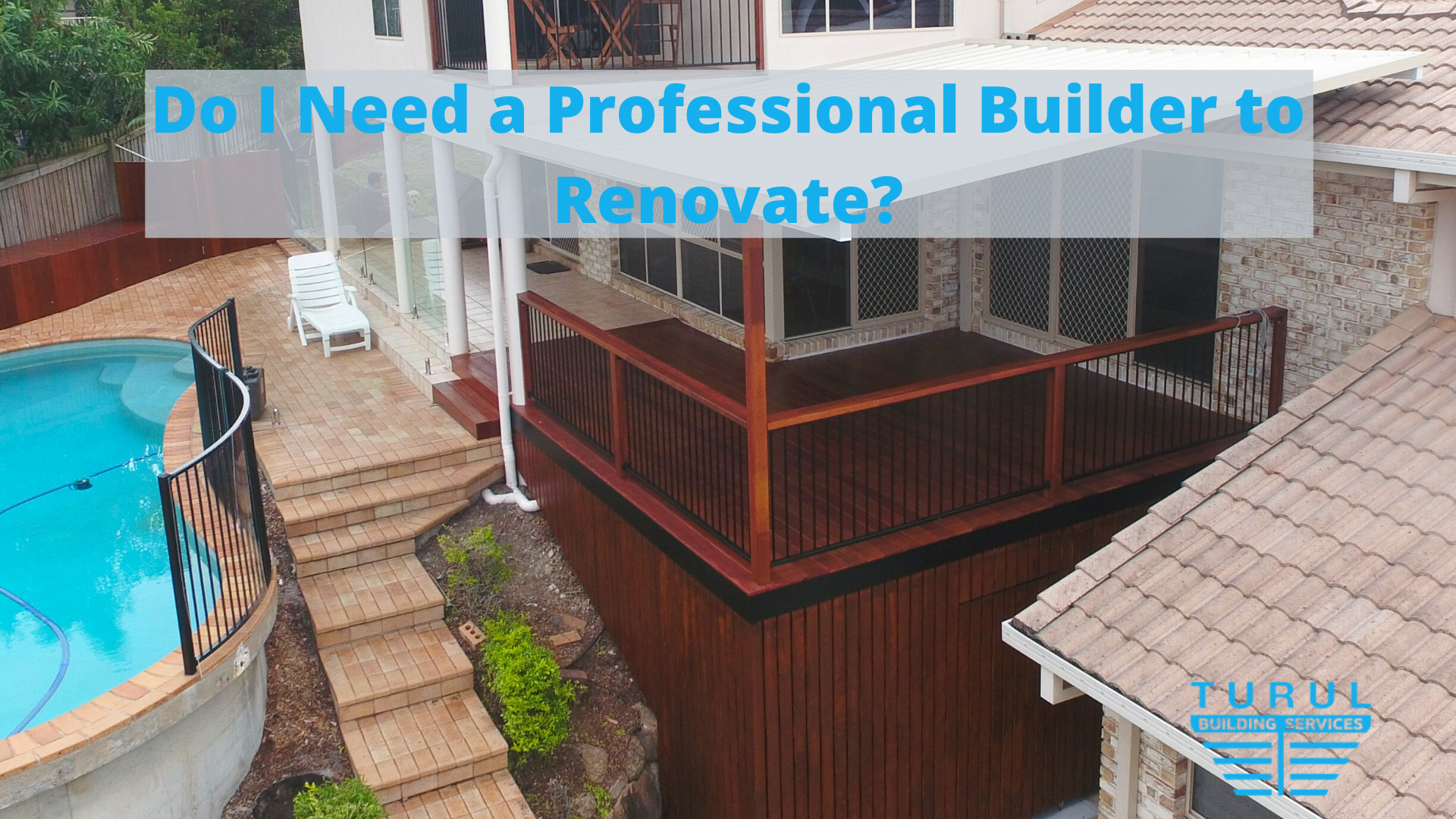 Do I Need a Professional Builder to Renovate?
Do I Need a Professional Builder to Renovate?
Renovating. It's all around us; shows like The Block explore the journeys of couples and friends from across Australia tasked with renovating and redesigning crumbling homes into spectacular showpieces. With such inspiration available on our screens, coupled with Australia's insatiable appetite for property investment, it's little wonder that so many of us look to buy the worst house on the best street and do a number on it. The question is though, at what point do I need a professional builder to renovate; if at all? Do you need a professional builder to renovate your home, or can you do a DIY renovation all on your own?

This blog aims to look at some of the finer points of home renovations and explore the jobs where you probably do a DIY renovation versus getting in the professionals.
DIY Renovation vs Hiring a Professional
When it comes to doing a renovation in your home you have a range of options as to the type and style of renovation. You can do a simple renovation which steers clear of any functional renovations, and just do work like repainting, replacing curtains or blinds, and updating fixtures and fittings. A simple renovation like this can work wonders if you are looking to sell and want to put your best foot forward. You probably won't need a professional to do work like this, unless you are time poor and really don't have the capacity or the skill to do the work on your own.
If you are looking to undertake a more structural renovation like remodelling a kitchen or bathroom or adding on a deck, it's often better (and cheaper in the long run) to hire Renovation Builders Brisbane to get the work done. After they have done the bits that need a professional, you can step in and finish of the work like painting and finishing.
Our top tips:
Tiling is often a job best left to the professionals simply due to the fiddly nature of the work and the requirement for precision.
If you are working with electrics you absolutely must hire a professional; the risk for danger and electrocution is simply too great to try and save a buck by doing it yourself!
DIY Home Renovation vs Hiring Home Renovation Builders
If you are thinking of undertaking an entire home renovation and are looking to get it done in a specific time frame, it may again be worthwhile considering using a professional home renovation builder. Something we have learned over many years of working with families and homeowners is that remodelling or renovating will often take longer than you expect, especially when you are doing the DIY home renovation yourself.
Our top tips:
Working with a professional means that you have someone to hold accountable for the job, and you can rely on the builders to manage your expectations and let you know how long things will take.
If you are doing a smaller home renovation and looking to undertake the DIY home renovation yourself you need to make a detailed plan about how you are going to proceed and what order tasks need to be completed in.
DIY Bathroom Renovation vs Using Bathroom Renovation Builders
The bathroom is a key room in your home. If you are looking to perform a bathroom renovation and are not a builder, it does not mean that a DIY bathroom renovation is beyond your capacity – it merely means that things may take some time, and some trial and error, to reach completion. A bathroom renovation will require some plumbing work if you are putting in a new tub or shower, and may require tiling work too. These are tasks which require a high level of skill – and if done incorrectly can result in leaks or worse.
Our top tips:
Do the painting yourself, and choose the towel rails and tiles – but leave the plumbing and tiling work to the professionals.
A bathroom leak can cause severe issues in your home and it's best to err on the side of caution. If you are looking to save money you can do as much of the DIY bathroom renovation as you can on your own, and then get a plumber in for the critical work.
DIY Kitchen Renovation vs Contracting Kitchen Renovation Builders
As with the bathroom, the kitchen is an integral part of your home. There are plenty of tasks that you can do on your own for a DIY kitchen renovation, such as replacing or repainting kitchen cupboard and updating surfaces. You might even try your hand at replacing a splash back. However, if you are looking to get a new cooker or install an island bench, these tasks may require the help of a professional that specialises in  Kitchen Renovations Brisbane
Our top tips:
As with all other building tasks, it's important to consider your safety and the quality of the work first, and let your decisions stem from there.
If you save a thousand dollars today by doing a DIY kitchen renovation but end up spending three times that when something breaks or malfunctions, you would rather you had just got a professional in!
DIY reroof vs hiring re roofers
The roof of your home is one area where we strongly recommend getting in a professional team to do the work. While it might be tempting to tackle a DIY reroof on your own and save some money, the risks are considerable and it's not worth the hassle (in most cases) of doing it yourself. If you are doing a small area, such as a ground floor patio roof, you may be able to tackle the DIY reroof task on your own. But you will need sufficient scaffolding and equipment to perform the task safely.
Our top tips: 
Roofing requires considerable skill and a large range of equipment and tools to perform the job safely.

You should always

hire a professional Re Roofing Brisbane to get the job done rather than risk your safety.
If you've been wondering 'do I need a professional builder to renovate?' and are considering some home renovations but are worried about the cost, why not call us? You may be pleasantly surprised at the reasonable prices at which we provide top quality home renovation works.
Related Posts