Home
>
Uncategorised
>
How to Add Value to Your Property – Part III: Most Expensive Home Renovations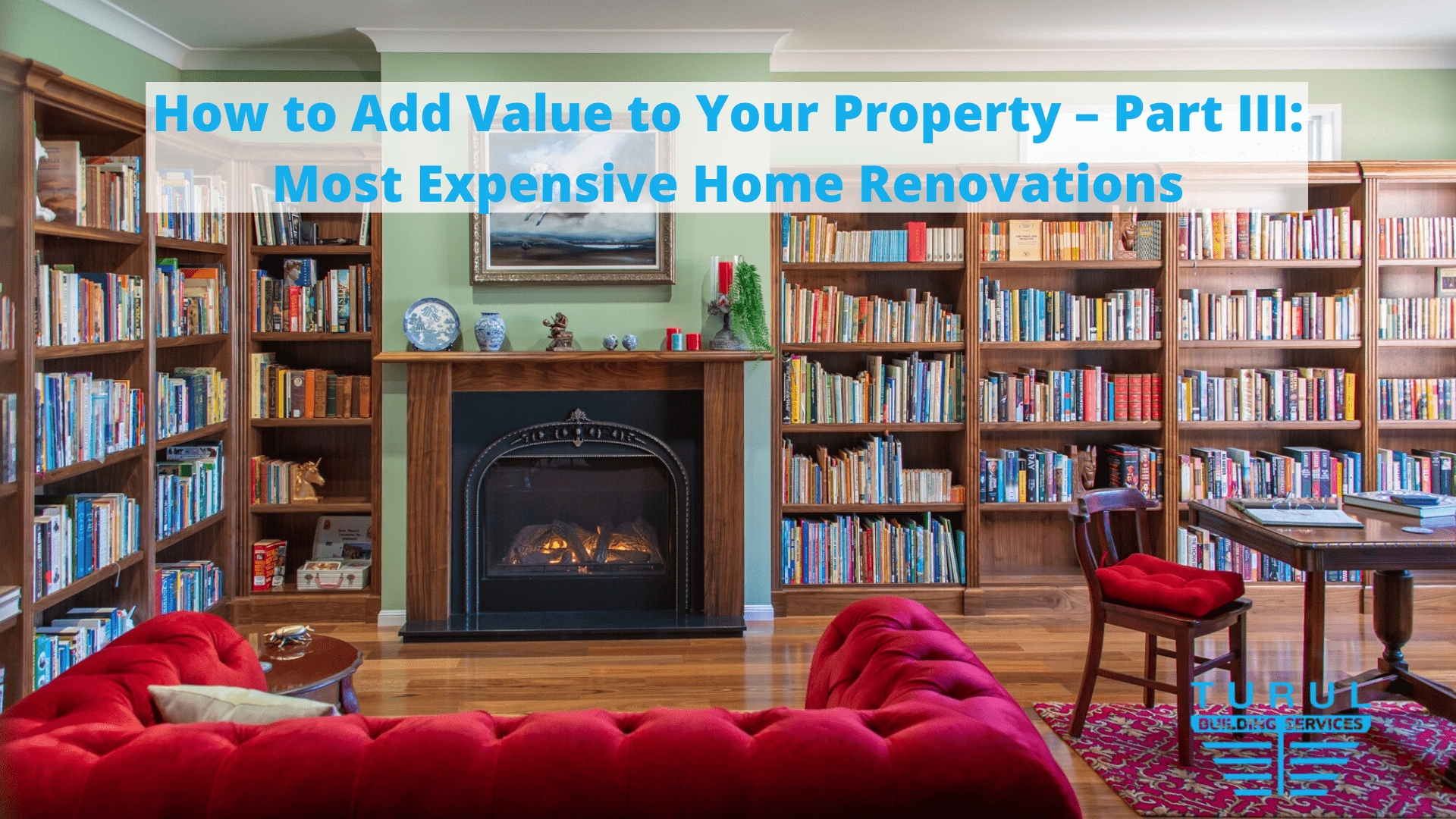 How to Add Value to Your Property – Part III: Most Expensive Home Renovations
How to Add Value to Your Property – Part III: Most Expensive Home Renovations
As we discussed in the last blog there are so many ways for you to add value to your home, and if you are not looking to overcapitalise on your investment it's best to focus on functional renovations like the kitchen or the bathroom, there is a lot you can achieve without plunging into the most expensive home renovations. However, in some cases, you may have a little more than just a baseline amount to spend on your home renovation in which case you might wondering about how to add the largest amount of value possible to your home. This segment of the series is focused on how to add value to your property with some of the more 'big ticket' home renovation items – while still reaping a tidy profit at the end of the day.
 Turul Home Renovation Builders are here to ensure that no matter what type of renovation you do, the end result is one that you are delighted with. 
Which Home Improvements Add the Most Value
The last blog focused on how to add value with improvements such as bathroom and kitchen renovations, without plunging into the most expensive home renovations. But there is a whole range of other improvements that you can perform on your home to raise the value by appealing to a certain type of buyer.
Home automation
You have likely seen a range of adverts for technology such as Google Home and Alexa. These technologies are types of home automation which allow you to do things like control smart light globes or change the music on your in-home speaker system. But when it comes to home automation you can install smart lights, automatic windows and blinds, smart heating and cooling and much more.
We can work with you to completely customise your home and make every technology available to you at the push of a button. Want to cool down baby's room half an hour before you get home? You can do this from your smartphone at the push of a button. Want to set up the home theatre for movie night? Dim the lights, close the curtains, set the popcorn machine going and cue up a classic – all with a single pre-set. Home automation allows you to make life easier at home and means that you can add value to your home for buyers looking for a technologically enhanced way of living.
Re-roofing your home
When people think of home renovations thoughts usually turn to things like interior fixes – but have you thought about re-roofing your home? Many homes can benefit from a reroofing service, and if your roof is over 25 years of age you may wish to think about including a reroof as part of your renovations. Plus, if you are thinking about getting a home extension as part of your renovations you should consider reroofing as part of your overall revamp – the new extension will need a roof and if you're looking to upgrade it can be cost-effective to do the whole roof at once.
Home office
If you are someone who works from home, have you considered investing in a home renovation specifically tailored at a home office? When you have a specific area of your home that is used exclusively for work you can claim a tax benefit from the ATO at tax time. Plus, you can benefit from being productive in your very own home office space. We provide commercial office fitouts so you can be sure of our expertise in creating a home office space that will really shine in your family dwelling.
Home flooring
When you renovate the flooring in your home you have the capacity to elevate your home to new heights. Flooring doesn't have to be boring – and while carpet can be a nice touch for rooms that you use for special occasions, we find that hard-wearing timber and tiles can be a great option for everyday use rooms. Rugs are also a wonderful way to add warmth to your home.
Which Renovations Add the Most Value?
Ultimately, the renovations that are going to add the most value to your home will depend a lot on the area you live in and your buyer demand. You also want to look at how long you are hoping to live in your home before you sell it. If you're looking to add value and then sell pretty soon after, you should be focusing on functional rather than the most expensive home renovations. Flooring and re-roofing are a great choice for quick value add that can really make a house shine at auction or in a sale. This is because prospective buyers can see the value and will know that they do not have to re-roof for many years to come. Home automation, on the other hand, is only going to increase in demand, and we will see more buyers looking for these special touches for unique homes.
Read on to find out more about adding value to your home in part four (the final instalment) of this series!
Related Posts